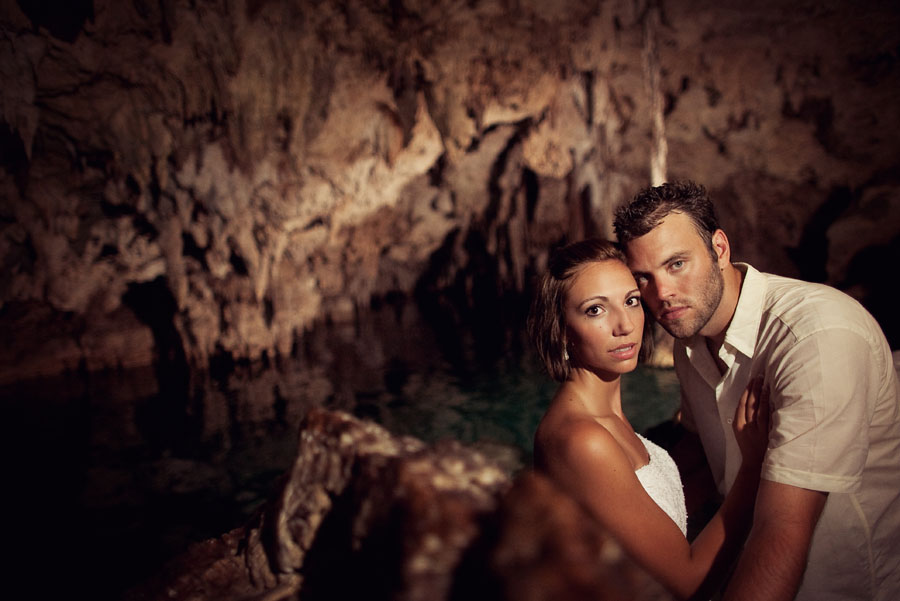 I met Casey and Aric back in early 2008 at WPPI in Las Vegas.  On opening night, they had a welcome dinner and the experienced conference goers (Marco and Joe) instructed me to find a table while they gathered the food.  So I sat down alone at a table for 12, in an attempt to save at least 5 seats all by myself.  Unfortunately, I didn't have enough articles of clothing to spread around without making it uncomfortable for everyone around me, so I just sort of sprawled out one leg here and another leg there.  Marco and Joe returned quickly with their spoils (chicken wings, some bread, and I think pigs in a blanket), and the seats were becoming scarce for all 10,000 of us photographer folk.
Two chairs remained and up come  this ridiculously tall couple, and I knew instantly they were going to ask if these chairs were taken.  I ummmmed a bit and looked around, hoping someone I knew was looking for a seat, but no one was around so I told them, "Sure, it's all yours."
That pretty much describes the beginning of our friendship.  We chatted and found out they were from Lubbock, new photographers, and didn't know anyone.  We ended up hanging out the rest of the conference as a group of newbies taking in the vastness of our industry (actually it was more like 3rd wheeling for me).  By the way, if you are interested in becoming a wedding photographer, this is the conference to attend.
Our friendship has come a long way in the last 2 years and I can honestly say that they are two of my closest friends today.  Not only do we talk photography, but we talk about and share our lives with each other.  Which is why it was such an honor for them to ask me and Andrew to be part of their wedding as their photographers.
For their destination wedding, Aric and Casey chose Moon Palace in the Riviera Maya, just south of Cancun, Mexico.  Moon Palace is a huge private resort away from the spring break scene, and right on the ocean.  It's an all inclusive resort with some pretty nice accommodations.  Aric and Casey knew they wanted to get married on a beach with only their closest friends and family in attendance, which is perfect for destination weddings.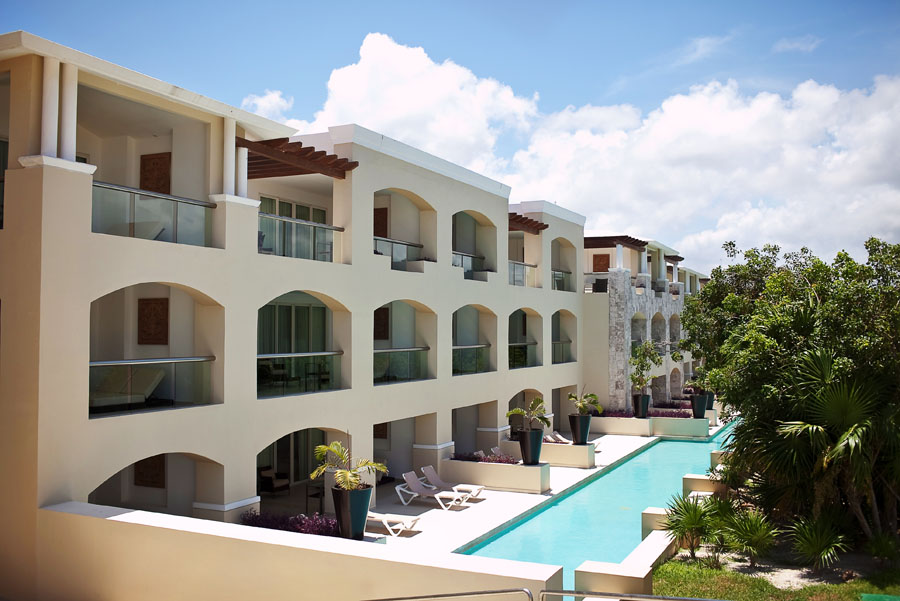 While Casey and her girls spent the morning at the Spa…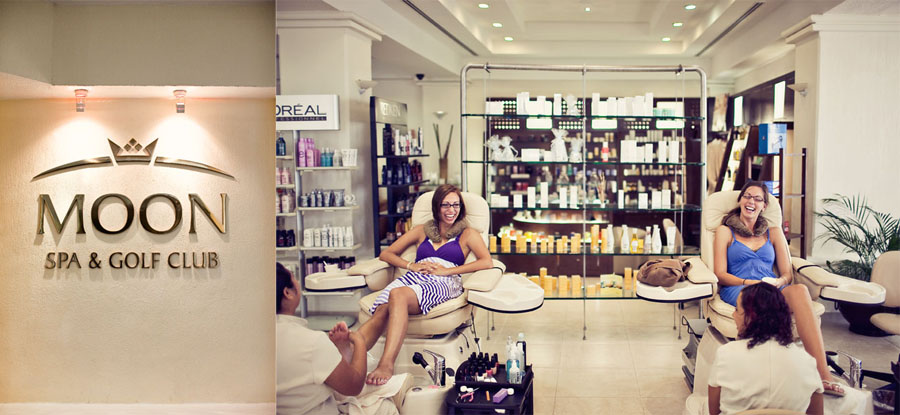 Aric and the guys spent the morning "playing" golf…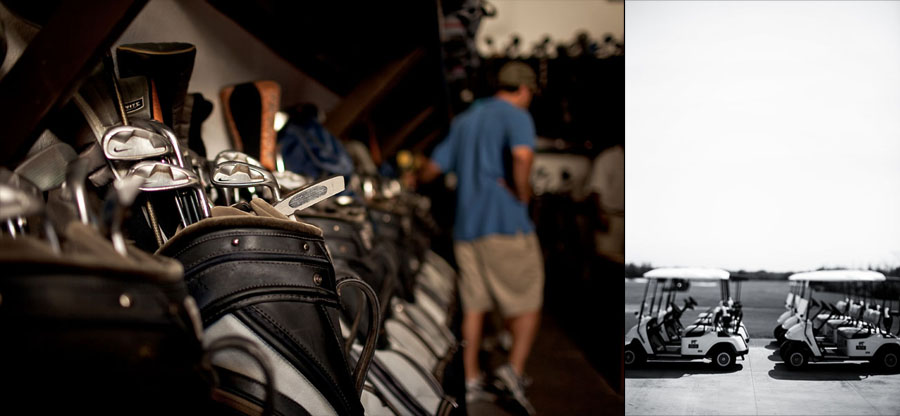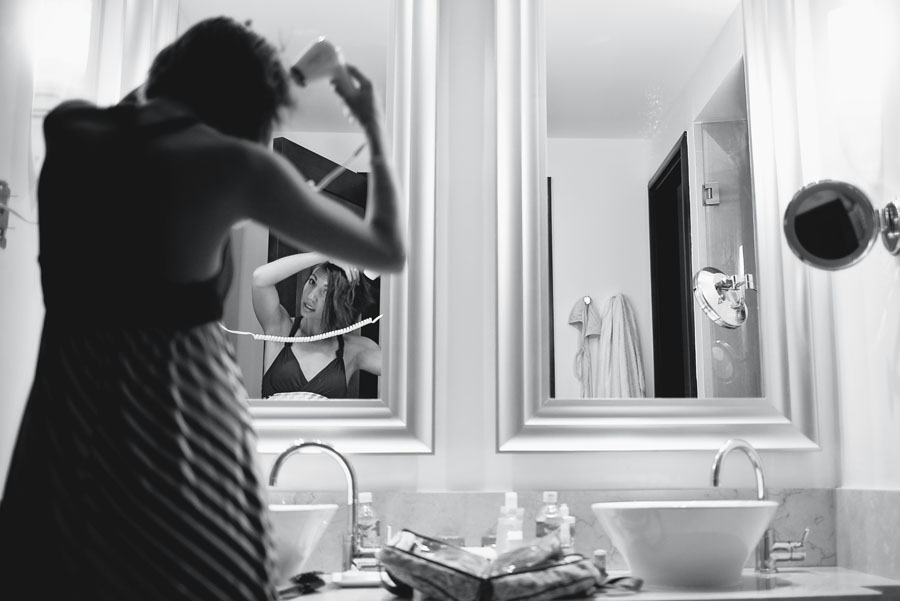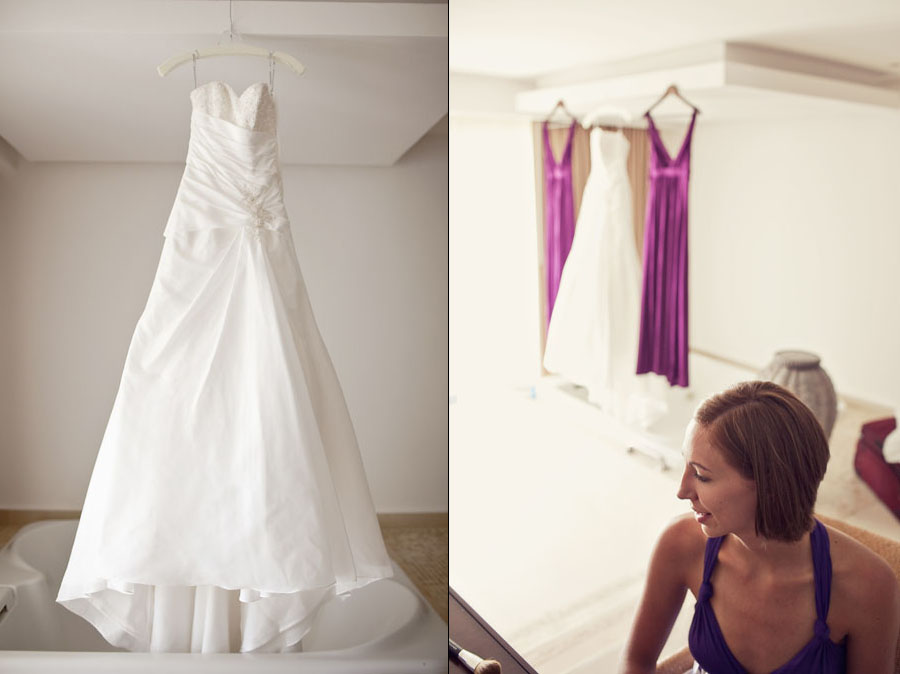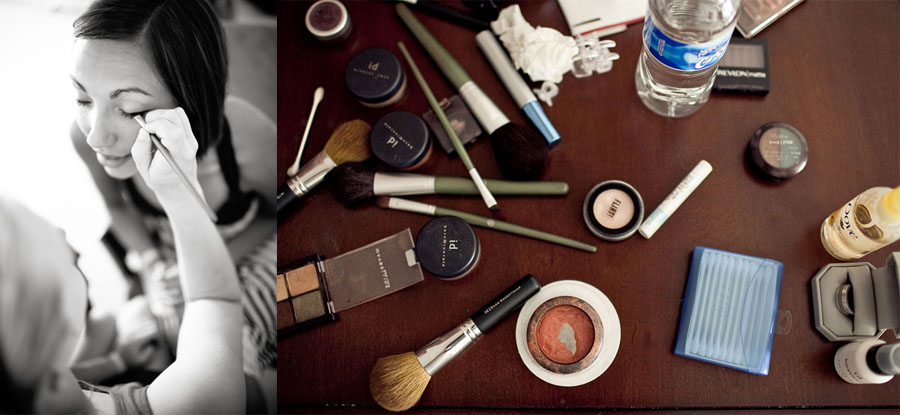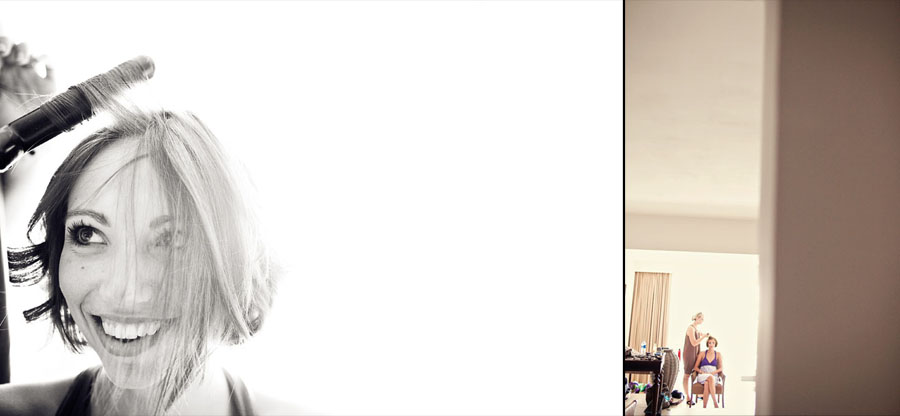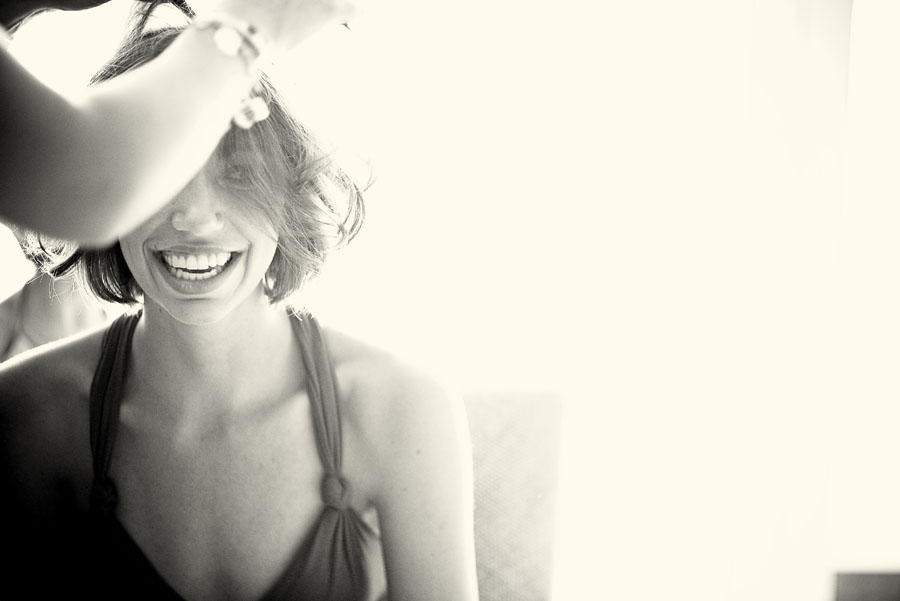 I love this picture. Casey's mom, her sister, her best friend, and her niece all helping out.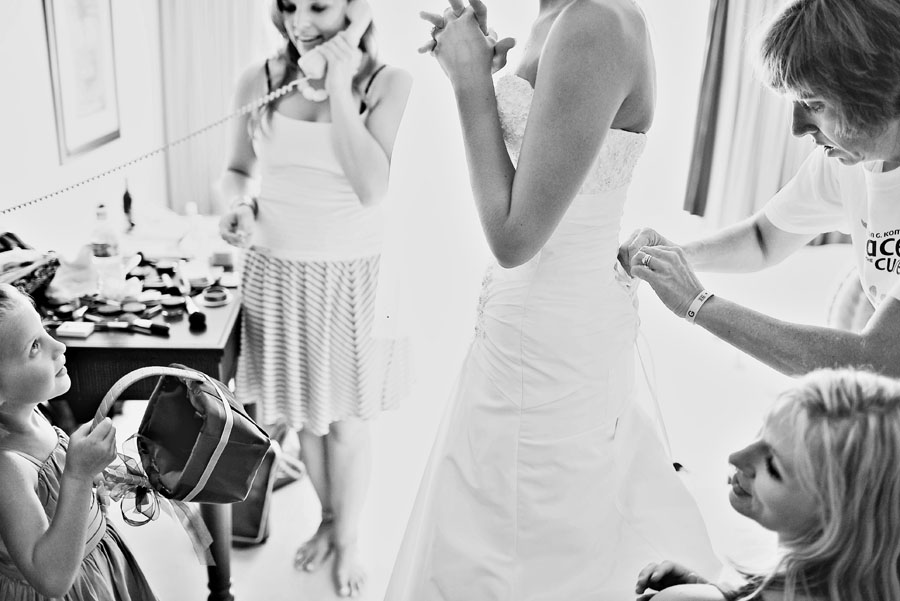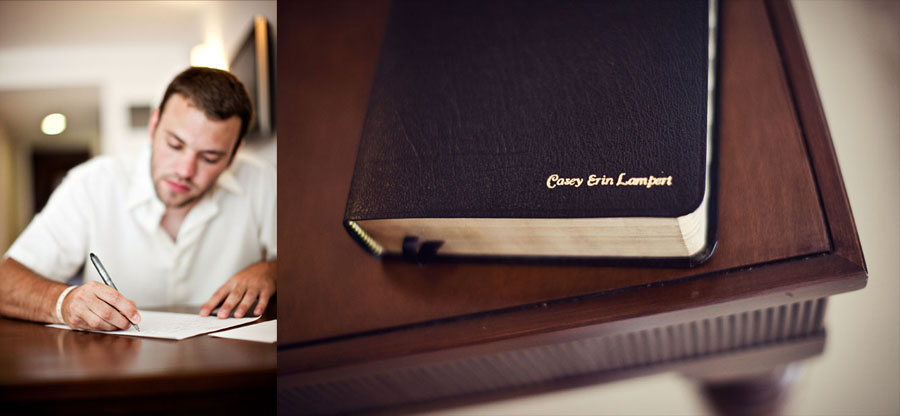 We looooved Aric and Casey's first look!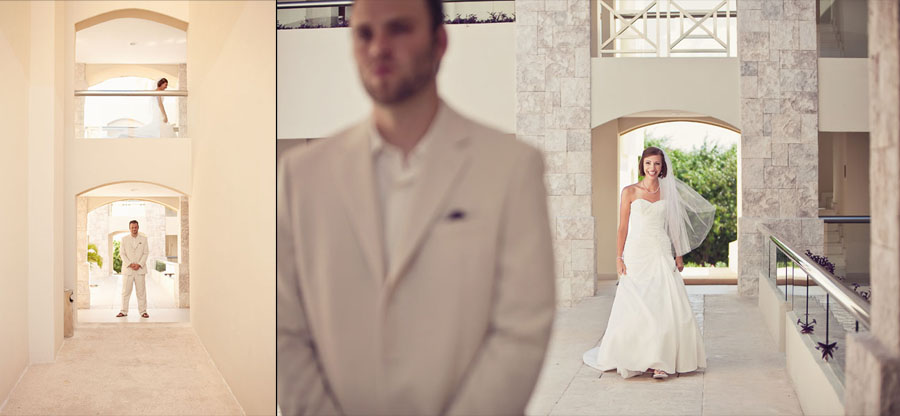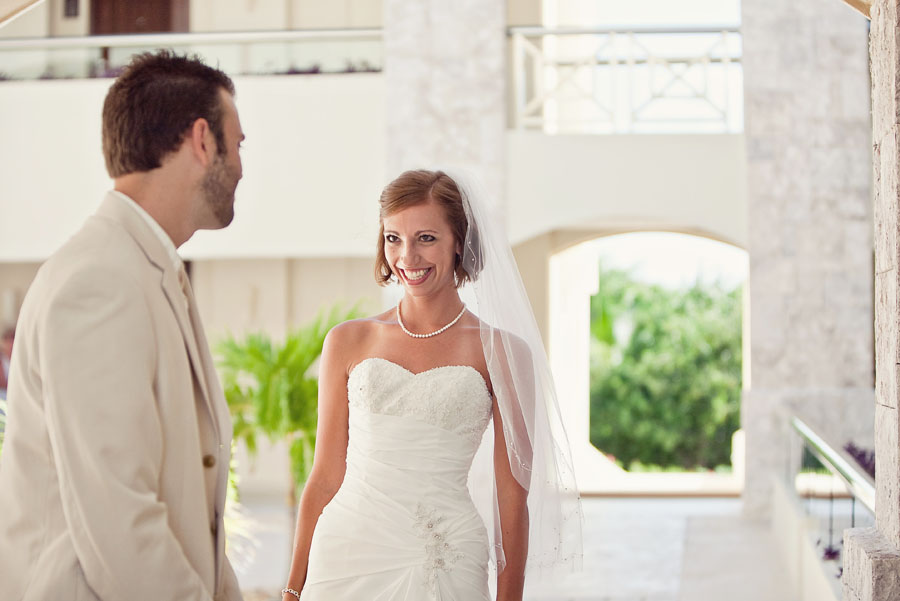 You can't see it in this photo, but their wedding party watched from a distance as their friends saw each other in full wedding attire for the first time.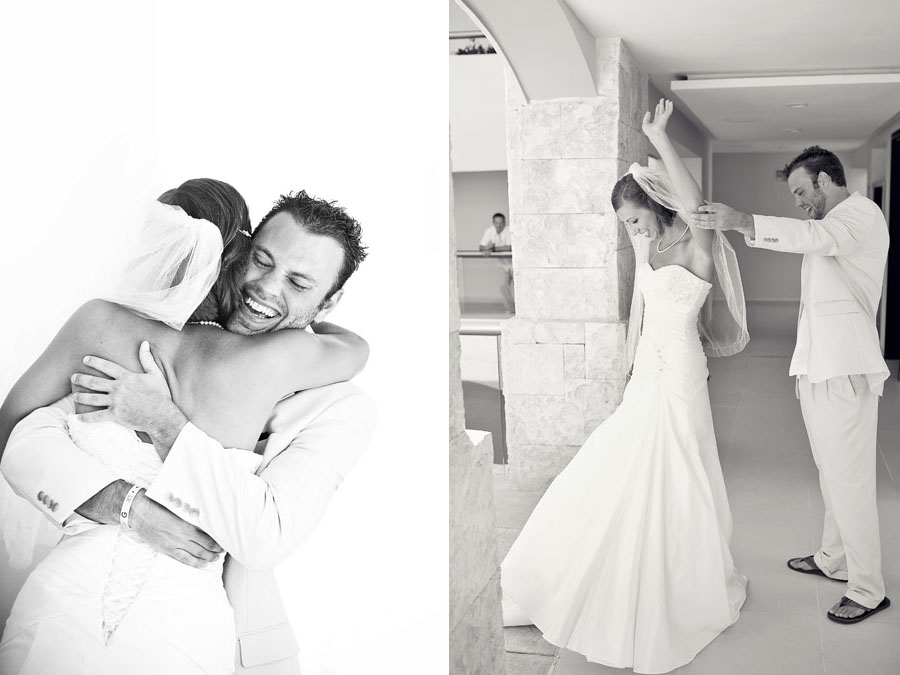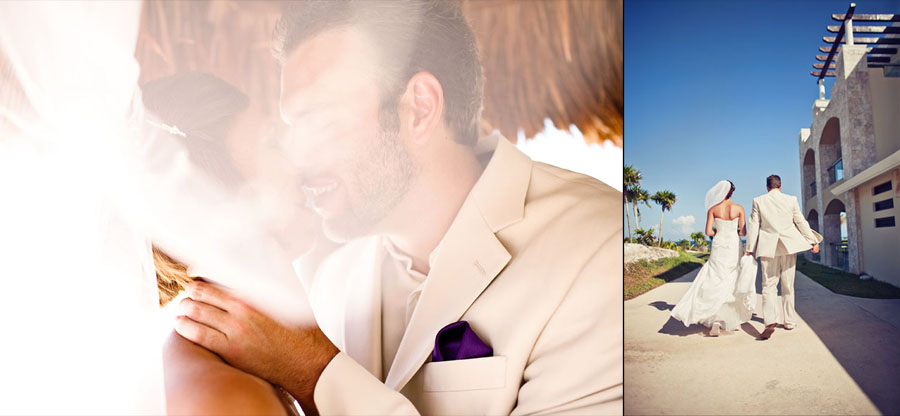 The first look allowed us to use the time before the ceremony to get some intimate portraits of Aric and Casey…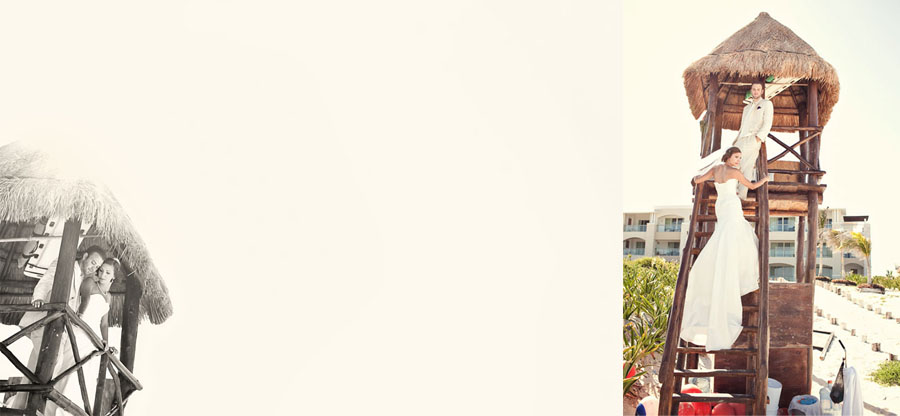 As well as some of the more….formal…portraits. 🙂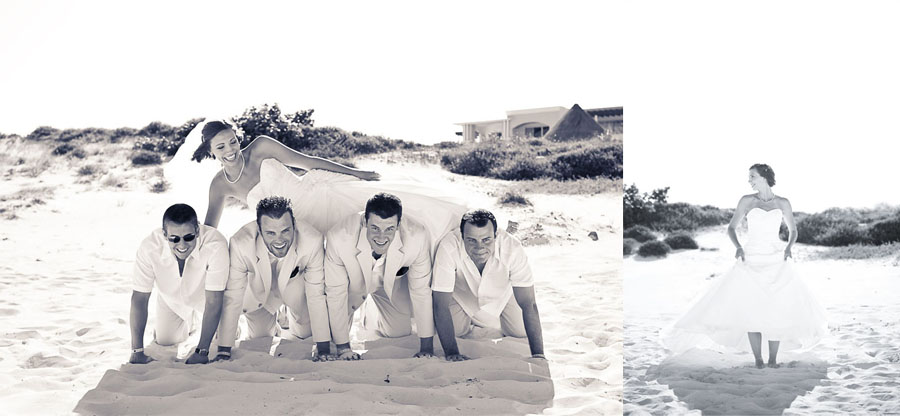 Casey and Aric's friends (Brittany and Jordan) led worship while also providing the processional and recessional music.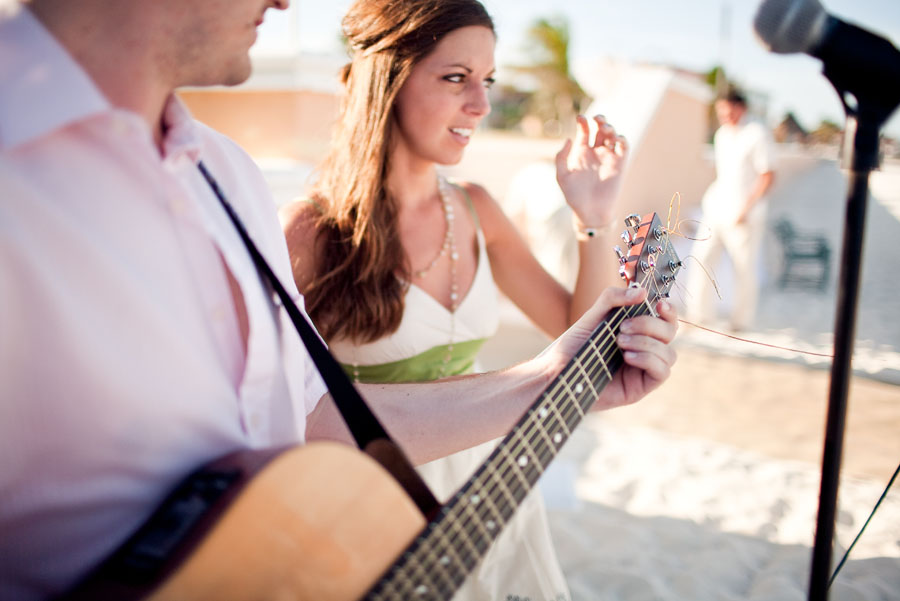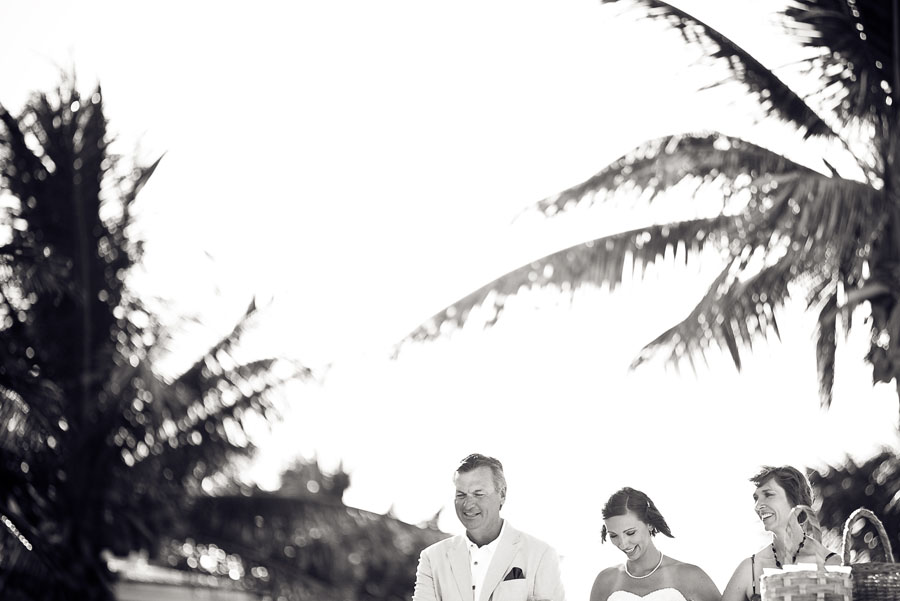 The coolest part about their wedding was the unity PAINTING they did.  The idea was nearly scratched at the last minute, but I think this speaks so much more about the bond they share than any candle ever could. You can see just how nervous Aric was because he started painting the white canvas with white paint. 😉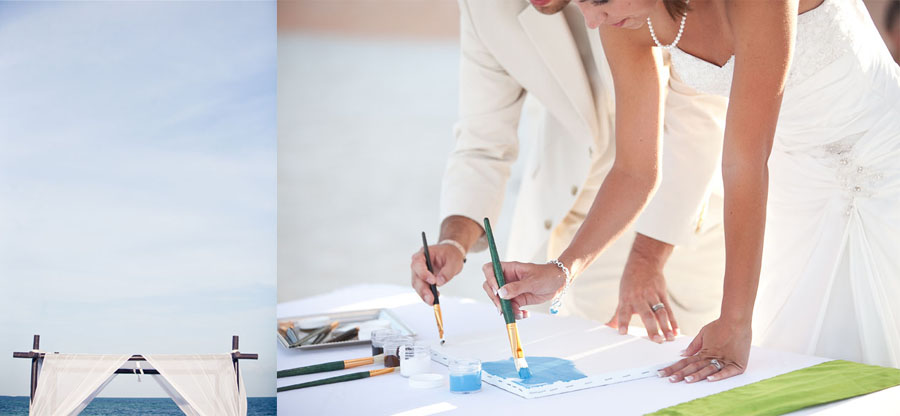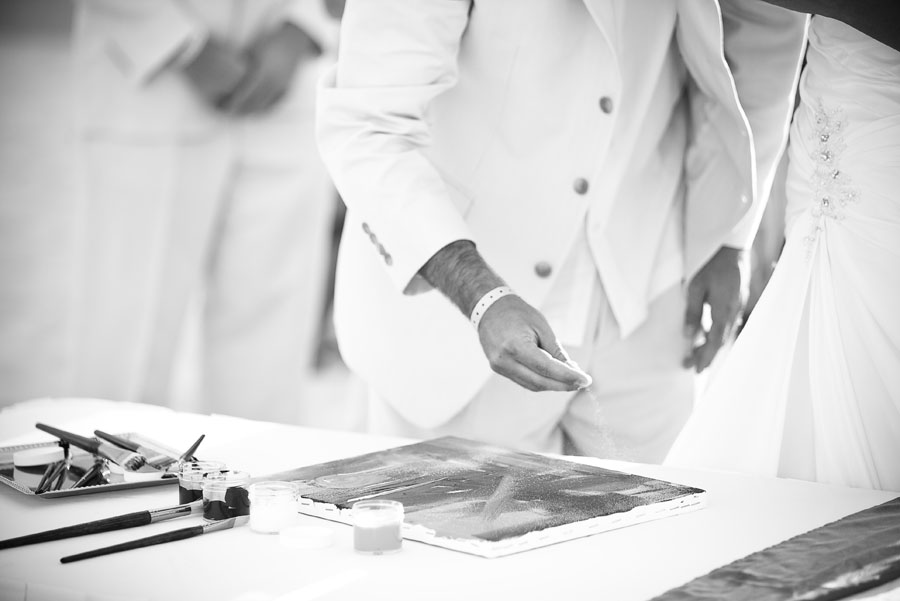 These next two images really explain the benefit of having both me and Andrew on your wedding day.  There's no way one person can take both pictures, especially if they have to run through the sand. (Have you ever tried running on sand? It's nothing like Baywatch.)  As I shot their first kiss from the front, Andrew shot their first kiss from behind as well as the first couple steps as a married couple.  It worked out perfect with the sun (thanks Sun!) and you can really get a feel for the joy that everyone is experiencing at that exact moment.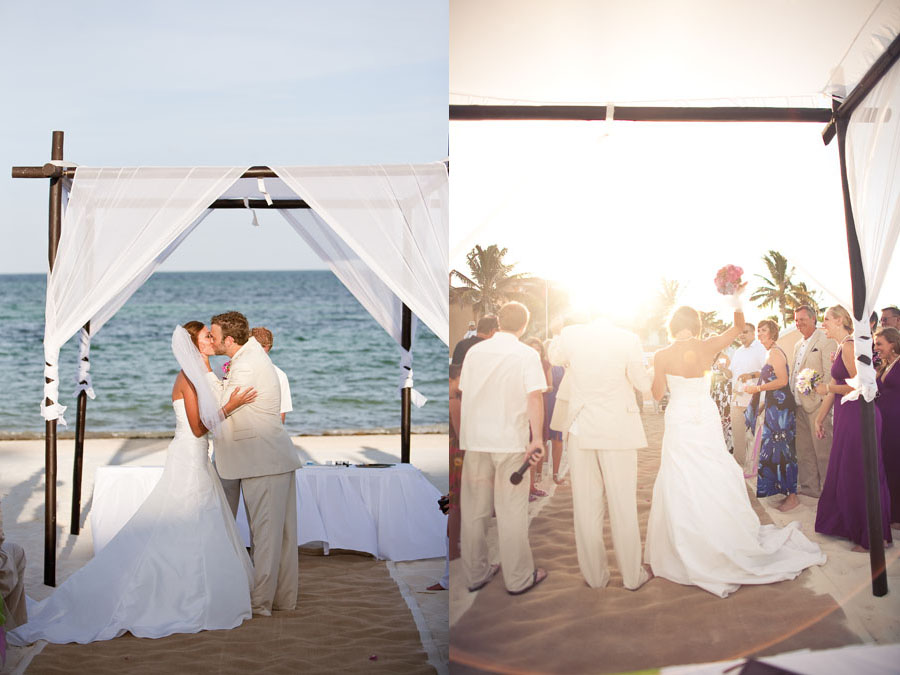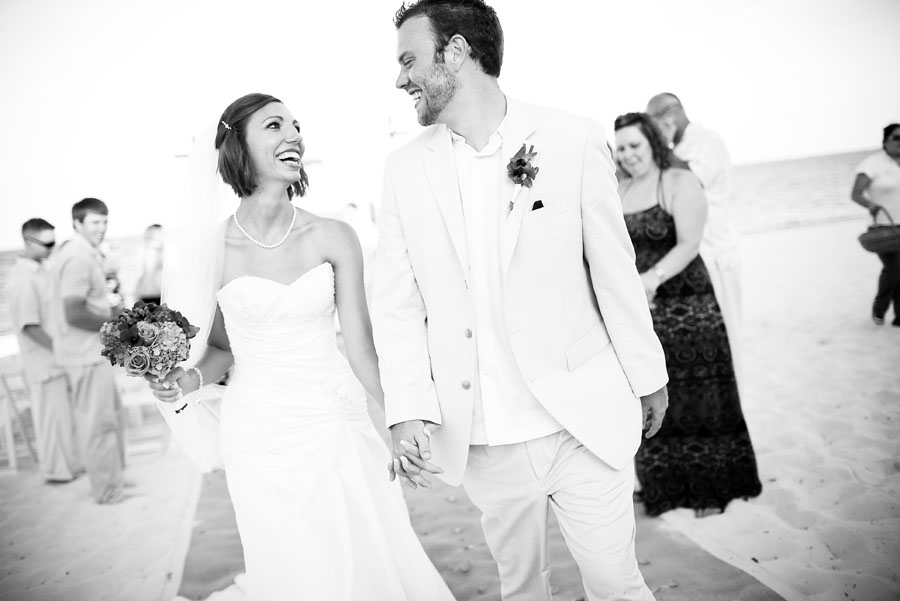 Not bad for being entirely unscripted, huh?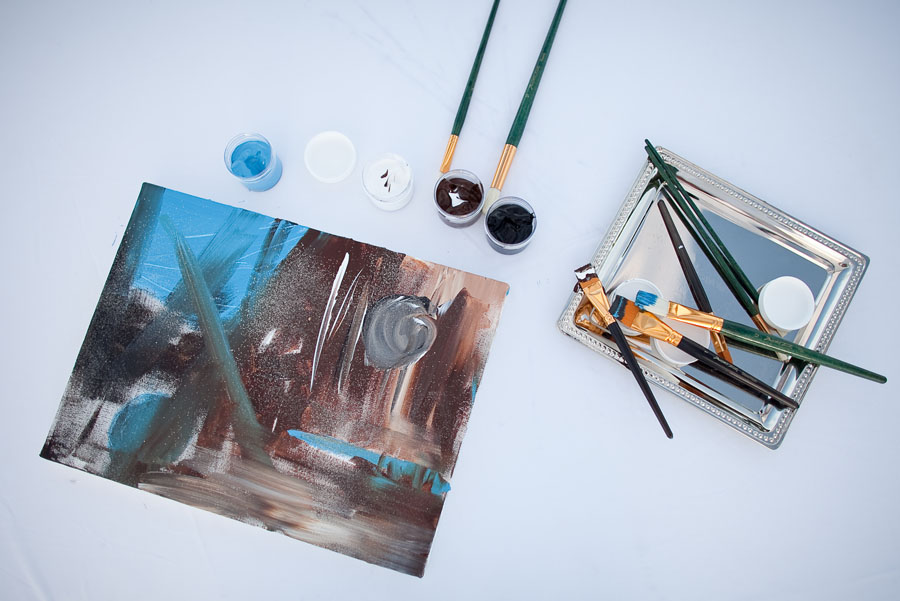 Casey and Aric's reception was held outside on one of the little terraces that Moon Palace has throughout the resort.  There were probably 5 other weddings going on the same day, but none of us ever crossed paths.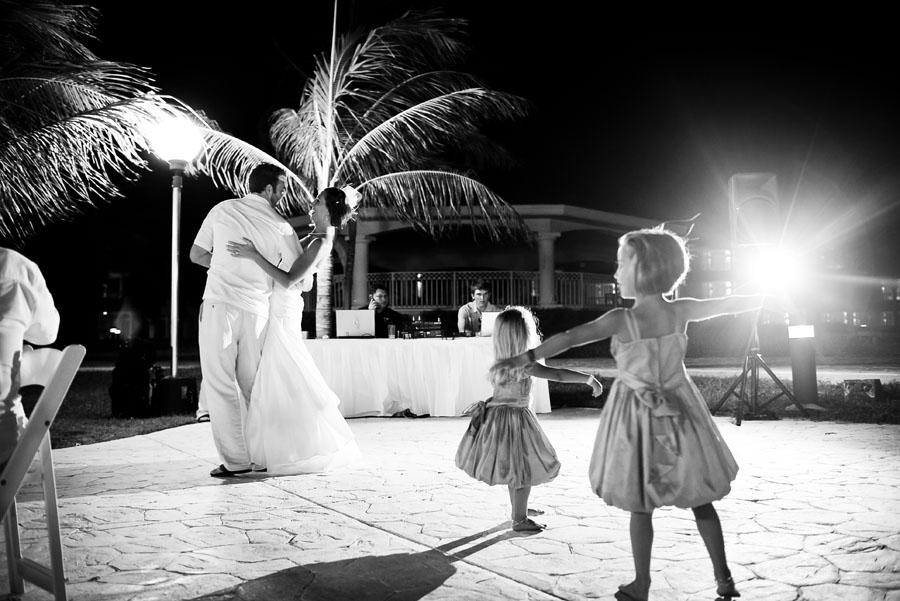 They also crafted their own custom cake toppers out of clay and a modern day kiln (aka stove).
Introducing Brooke and Dean, "Dancing with the Normal People" winners.

If you're getting married in the Central Texas area and looking for a wedding photographer, definitely check out Aric and Casey's photos!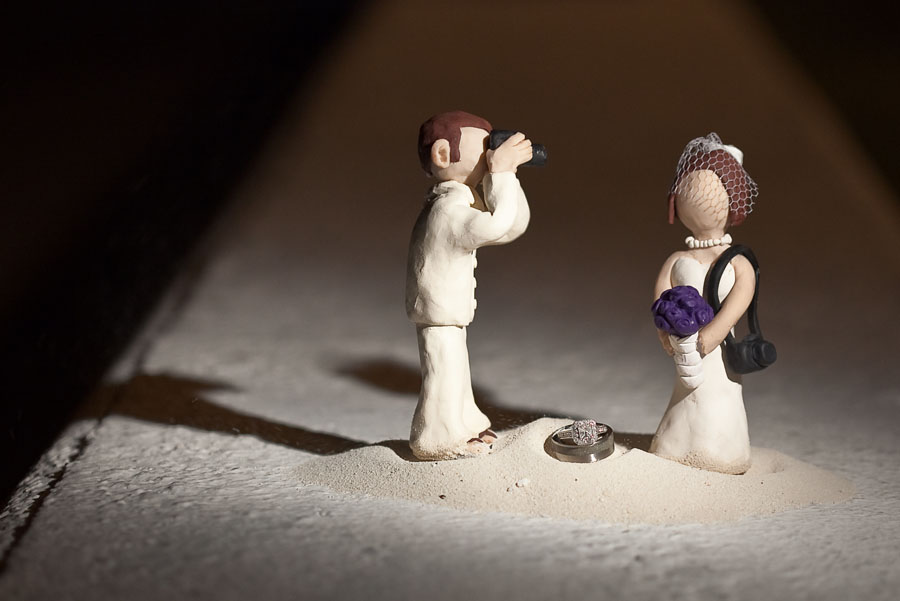 The next day encompasses probably our favorite part of photography. You take two gorgeous people who are madly in love and toss them into a brand new location with its own challenges, including 20 foot deep pools, limited lighting, and expensive equipment. I cannot express just how much we LOVE being put into situations like this. (yes, that is an open invitation!)
To see what I mean, check out this quick video we shot on our camera. You can kind of sorta see how unique (and fun!) this location was.  The main light that was provided was a light bulb hanging off a big rock. The location had 2 or 3 other lights sunken in the water to help light the cavern, but overall, just know it was dark. (To see more of our videos, Fan us on Facebook!)  EDIT: Also, to see Aric and Casey's official wedding video, go view Stuart Blalock's work at Studio 84.  He and his wife came along and both were a pleasure to work with!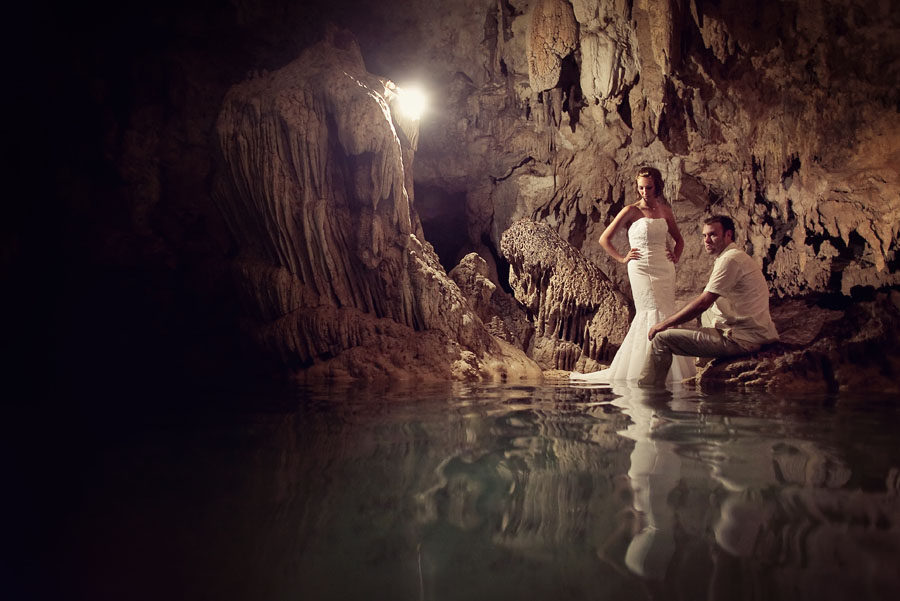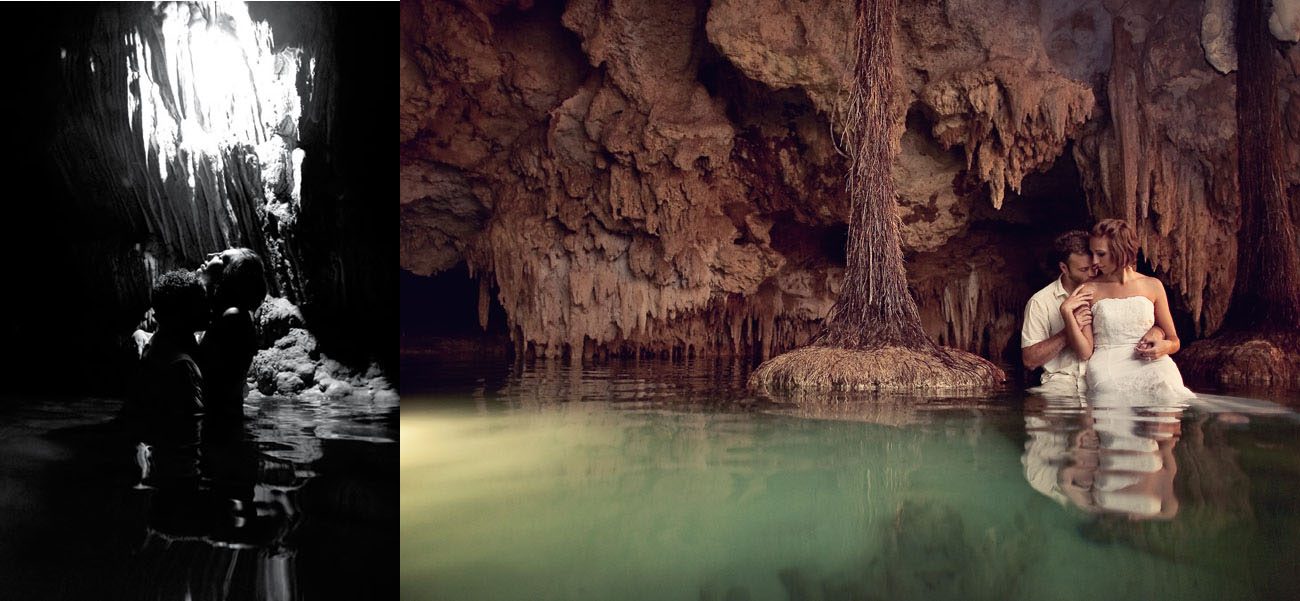 This last image is probably one of our favorites from their wedding in Cancun.  The light from behind is a flash being held up by Andrew while he is floating on two life jackets. The lights on the rocks on the left were provided by the place and the light by the stairs is the entrance and exit.  Casey and Aric are standing on a small rock that allows them to be about 3 feet above the water. I'm way across the pond, standing on the little island thing, balancing my camera on a rock as well, so we can use a slower shutter speed.  Oh, and there's very little photoshop magic on this image. 🙂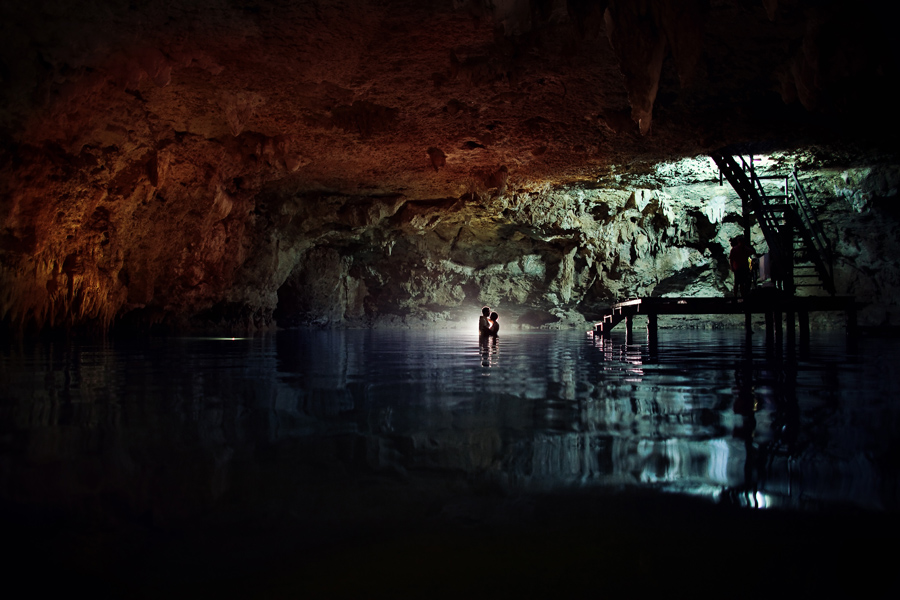 Casey and Aric, thank you for your friendship and trust. You guys are incredible individuals and even better as a couple. We're honored and blessed to call you clients and friends. Thank you. 🙂
Edit: If you're looking to find some cenotes yourself, we'd suggest hiring a local tour guide and have him/her drive you around.  There's a stretch of road about an hour away from Cancun that contains a bunch of different caverns all next to each other.  We ended up going to one called LabnaHa.  They were incredibly nice to us and they were also the cheapest one we came across.  🙂