Huong & Ben | Destination Engagement in Paris
One morning I received a call from an international number. After staring at it for three rings trying to figure it out…
"Hello, this is Jason."
"Hi Jason! My name is Huong and I'm calling you from the Netherlands!"
"Whoa. {awkward pause} How can I help you?"
"I'd like some more information about doing an engagement session in Houston."
Perplexed, I explained the engagement session process to her – locations, times, outfits, posing, etc…but after our conversation, I had to ask her one more question. "Can I ask…what are you doing in the Netherlands?"
She explained that she and her fiance now lived in the Netherlands for work. The company he works for has an office in the Netherlands and hired the company that she worked for, who also had an office in the Netherlands. I asked about their relationship, how they met, and how they got engaged. After telling me their story, Huong said they were actually engaged at the Eiffel tower in Paris! As a smile came upon my face, I said, "Then why not shoot your engagement in Paris? It seems it has more significance than Houston for you guys…" She said she never thought of it, but would talk it over with her fiance and call me back.
<insert longest 3 minutes of my life>
A call from the same number comes in and within the first ring, I pick up – maybe a little too excited. Huong tells me she and Ben would LOVE to fly me out to Paris to shoot their engagement session. <high fives all around!>
It's always a wonderful opportunity to shoot in unfamiliar and new settings – both as a photographer and as a wannabe world traveler. I feel so blessed to have couples want to take me on trips with them so we can create unique and stunning photos together. I indulge in the creative challenge of new places, cities, and rules. If you've been on an engagement shoot with me, you know I like to wander around aimlessly, looking for spots and inspiration. While I love discovering locations and seeking light, I think my couples find wandering a little more relaxing and laid back since there's no set plan for us to stick to – each session is truly unique. For Huong and Ben, we knew we wanted to photograph the iconic Parisian spots – Eiffel tower, The Louvre, and Champs Elysees. Along the way, we found a few hidden gems, which isn't too hard in a city like Paris!
This shoot was especially fun because I got to bring my girlfriend (and photographer!), Kim Le with me to spend a few extra days eating, cheesing, and relaxing in Europe.  We also visited Budapest and London on this trip, but Paris is definitely one of our favorite destinations mainly for it's charm (me) and macaroons (her). It's a perfect city for people watchers, history buffs, foodies and photographers. And since Paris is such an international city, you don't need to know much French to get by – though it might be helpful to learn merci (thanks), deux pan aui chocolat (2 chocolate filled croissants!), crepe, nutella, baguette, and vin (wine!). We urge everyone to visit Paris at least once in their lifetime – so much that we've thought about hosting a photo walk/workshop in Paris just to share our love for the city. FYI – if you ever find yourself planning a trip to Paris, we've found some hotel alternative gems via Airbnb.com (this is by far our favorite).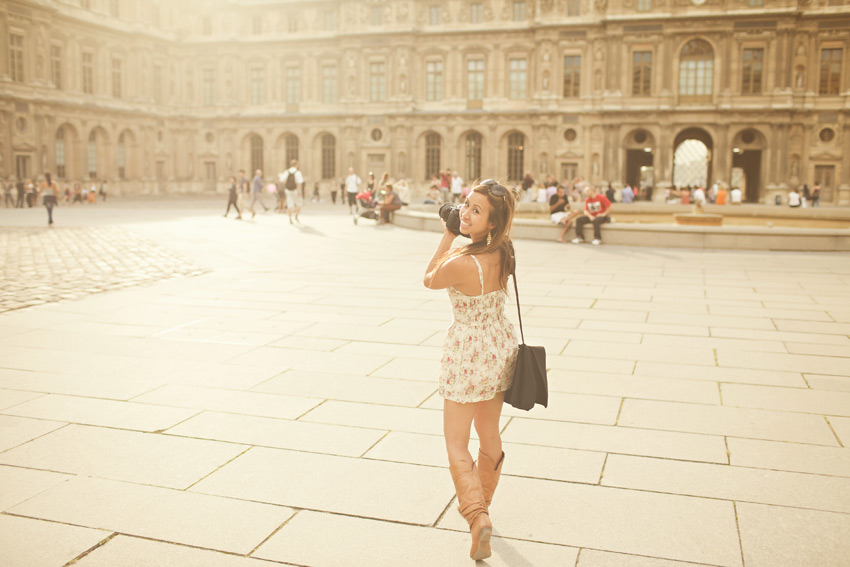 Leave me a comment with where YOU'D love to have your destination engagement session!  And if you want to take me (and the cute girl above) with you, send me an email. 
P.S. Check back in a few days for a magical night time Paris engagement session!